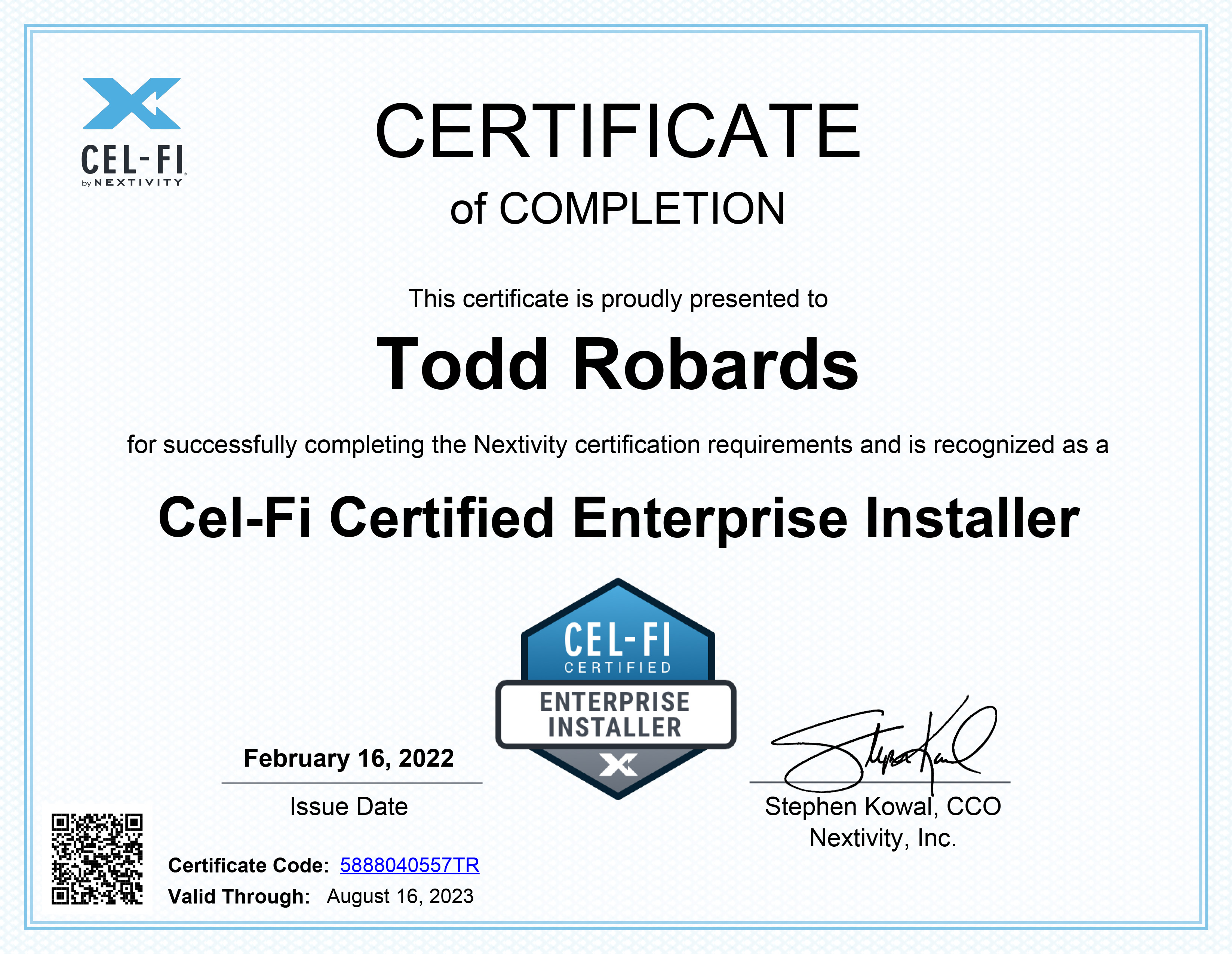 Through vigourous training and superior industry knowledge that has been obtained through the many installations of Cel-Fi Cellular Distributed Antenna Systems (DAS), Tin Can Solutions located in Capalaba, Brisbane QLD is proud to have achieved the highly ranked status of "Cel-Fi Certified Enterprise Installer".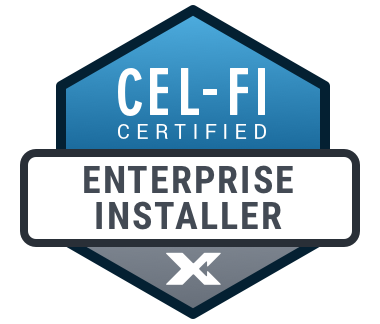 Our customers can rest assured that Tin Can Solutions have the required knowledge, experience and most importantly the backup & support from Nextivity Cel-Fi to carry out your cellular mobile phone service upgrades to boost better phone service into those black spot areas of your business or home that have poor mobile phone service.
Tin Can Solutions supply and install mobile phone repeaters to boost bad phone service with great results and extremely happy customers, but don't just take our word for it as our customers have been giving us positive reviews which can be seen at our Google Business Profile here so take a look for yourself.
CelFi mobile phone repeaters can be used in many places such as businesses, factories, production, warehousing, hospitals, homes, vehicles, trucks, tractors, boats, caravans and many more places that have inferior phone coverage. Pretty much anywhere you have poor mobile phone service or dead zones of phone coverage, we can install a Cel-Fi solution to meet your expectations.
With many people working from home these days, the need for reliable phone service is paramount to everyday business activities.
Building structures are being designed and built to stringent energy efficiency standards that limit the influence of the external weather conditions from entering the structures which means that the building products being used also limit the mobile phone signals from entering the home or business too. This is also the case in concrete structures and steel sheds/warehouses etc. This means that we need to get the mobile phone signal from outside to inside and to do this we use a mobile phone repeater or some call them a mobile phone booster, same same but very different. Simply put for a very simple installation, we install an antenna outside and then tune that antenna in to receive the best signal possible from one of the phone towers available. We then run a cable to a phone repeater and we install an antenna inside the building that just looks like a WiFi access Point (WAP), and run this cable back to the repeater. Once everything is installed and connected, we commission the system with the correct parameters to work efficiently and reduce phone drop-outs from band/tower hand-over. This is where some installers come un-stuck with customer complaints as they tune into the wrong band or the wrong tower and that is why we conduct a thorough site survey before we install or setup anything, so we can commission the system with the correct parameters to make our customers phone coverage more efficient in the long run. We also install much more complex systems than this with Network Units and Coverage Units using range extenders and Optic Fibre cabling for long distance runs in full Cellular DAS applications but the above is just a general run down of a simple system.
There is more involved than just having hubby throw up an antenna, connecting the repeater and powering it up as a poorly installed repeater might give a bit better phone signal inside, but when phone calls start dropping out when you walk outside and the phone picks up a different tower and band then frustration starts to come in. We are here to help and for our customers that purchase a DIY phone repeater kit from us will get a detailed installation guide with cellular survey forms to assist in correct antenna placement and will also get phone support from us. We will make sure to do our best to eliminate any of these frustrations for you by an initial phone or in-person consultation and then a site survey when we arrive on-site.
We have installed Cel Fi into many different spaces including offices, warehouses, homes in suburbia and remote areas, vehicles and shipping trawlers. With the right setup you can have better phone service coverage and increase internet data speeds in most cases.
So when considering who will install your next Cel-Fi mobile phone coverage solution, make sure they are a Cel-Fi Certified Enterprise Installer and get it done right the first time with the backup and support you would expect.