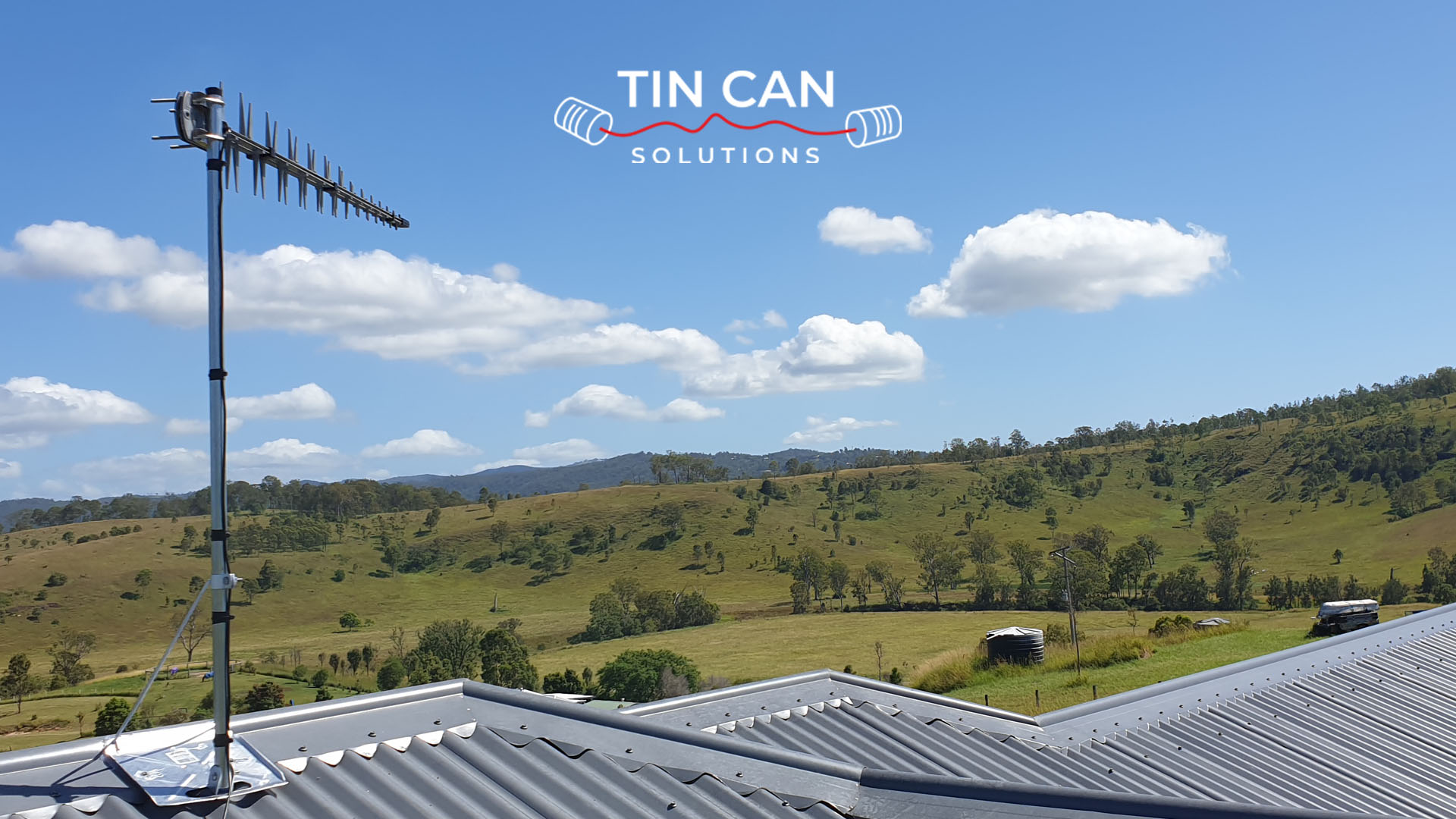 Tin Can Solutions were called to install Cel-Fi repeaters into 2 homes at Knapp Creek, QLD near Beaudesert where phone service is quite poor out of town.
Before we head out to our clients to install a Cel-Fi Repeater system, we conduct an off-site survey within our office where we look up the address and we can see a map of the terrain and all the telstra, Optus and Vodafone towers nearby. From this we can determine which system to install and especially which antennas to use. This also gives us an indication of which direction we need to start tuning the directional LPDA antenna for the best phone service.
Upon arrival, we conducted our cellular signal analysis and found quite poor mobile phone service around the homes with phone service better on one side of the house and considerably reduced signal within the homes. This is a typical scenario where there is already poor phone signals at the sites location and as soon as we head inside the service drops and is normally un-usable.
Fortunately our client was positioned on a bit of a hill where we could use the Poynting LPDA-92 directional antennas and tune into one of the Telstra phone towers north of Rathdowney. This wasn't the closest phone tower to the address, but it was the tower that was producing and serving the best quality signal, with neighbour cell towers offering a lower power and quality signal.
We used one of our pre-made kits for these homes which can be found here. These Cel-Fi in-building stationary kits comprise of an 11dBi directional LPDA donor antenna with 10m of cable, a Cel-Fi GO G31 Telstra repeater and a standard profile ceiling mount server antenna, 10m of cable for the ceiling antenna with all the specific fittings required. We just added a tripod mast to mount the antennas on the metal roof.
Once completed, we always perform a walk test to make sure that signal has been improved in the areas where the customer has requested. Both homes now have improved mobile phone signal strength and quality. Download speed tests showed that the quality of the service has improved considerably and the cutomer can now operate their business within their home with confidence that they can talk to their clients without the worry of phone calls dropping out due to bad service.
This is what we do and what we are experienced at. Tin Can Solutions are Certified Enterprise Installers of Cel-Fi equipment which means we have the experience and immediate backup support from Nextivity Cel-Fi to handle any problems or tricky situations that may occur with cellular service and repeater installations.