We get asked on a regular basis.
Will a mobile phone repeater work at our place!
Well it depends on a few factors of what signal strength and signal quality is available and mainly where it is available.
So how do you know what the signal strength and quality are so that a mobile phone repeater will effectively boost the signal.
The only real way to know in poor coverage areas is to have professionals conduct a mobile phone coverage survey which is a lot more involved than just looking at phone bars on a mobile phone.
Tin Can Solutions conduct mobile phone coverage surveys on a daily basis for our clients to determine if a phone booster will work for them. We have the ability to conduct coverage surveys up to 11m high off the ground which is normally enough height to determine if there is good signal and good signal quality up above tree lines and other obstacles that obstruct cellular RF signals. We also conduct surveys within suburban areas, within multi-storey buildings and apartments.
The image above is of our test rig with 11m high adjustable LPDA antenna setup for conducting cellular signal surveys where we need to get up really high. This particular survey was for a client just North of Bundaberg who'd had another company out stating that there was not enough signal strength at the site and obtained readings of less than -120dB RSRP at 4m height. FYI, -120dB RSRP signal strength on 4G is what a Cel-fi will disconnect at and won't work. We conducted a signal survey and obtained readings of -118dB at ground level which is close to the other company, and data speed tests could not be performed as there was not enough signal. At 3.8m we obtained -115dB with 0.5Mbps download speed which is still not acceptable. We went up in increments to 9m and obtained readings of -108dB RSRP signal strength and just over 3.5Mbps download speed which is quite slow, but at 11m we obtained readings of -107dB which gave good phone service and the download speed doubled to nearly 7Mbps. The signal increase from 4m to 11m was 11dB which means the signal at 11m is just over 10 times stronger. Yes that's 10x stronger signal which is a lot.
Signal Strength Comparison
dB to times stronger
| Signal Strength in dB | Signal Strength Comparison |
| --- | --- |
| Improved by 3 | 2 x stronger |
| Improved by 6 | 4 x stronger |
| Improved by 10 | 10 x stronger |
| Improved by 15 | 30 x stronger |
| Improved by 20 | 100 x stronger |
| Improved by 30 | 1,000 x stronger |
This shows that just because there is no signal on the ground or on the roof of a building, there may be signal up higher and with Tin Can Solutions conducting your surveys, you will get a detailed report with site map, signal levels and data speeds, along with our recommendations on what can be achieved. The above goes to show that with height, the signal improves considerably and unless you perform a proper survey at height, then you will never know if there is signal that is just out of reach of the normal surveys being conducted around the 4m to 7m mark.
Tin Can Solutions are approved as Cel-Fi Certified Enterprise Installers and this involves some intense training and knowledge of Cellular and Cel-Fi systems to confidently give the correct advice to clients, and this certification means we have the ability and experience to carry out cellular repeater installations that work.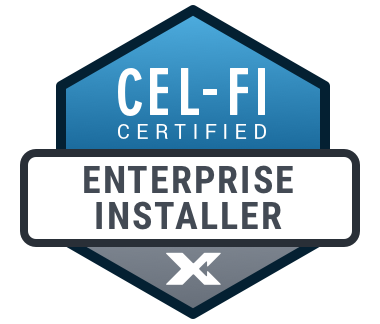 As said above, a Cel-Fi mobile phone booster/repeater will disconnect when the 4G signal is less than -120dB RSRP. What is this -120dB RSRP thingy you ask. That's another topic, but this dB and RSRP thingy is what we deal with daily and just one of the measurements that we need to check in a survey otherwise the system just won't work properly.
When we are asked to carry out a cellular repeater distributed antenna system (DAS) installation, first up we perform a desk based mobile phone coverage survey in our office where we look into the phone carriers towers nearest the location, the signal strength from the towers, and the coverage area map that the tower antennas are designed to cover. With this information, we know what the signal should be and where to look when we get on-site. Then when we get on-site, we conduct a mobile phone signal survey where we confirm what signal we can get and where we can get it from. This involves conducting an initial survey with a pre-formatted checklist to determine where to place the outside and inside antennas to give the best phone reception possible.
If you need a mobile phone coverage survey, feel free to give us a call on +61 7 3180 3840 or send us a message with the form below and we will happily have a chat to discuss how we can assist in getting you better mobile phone coverage.