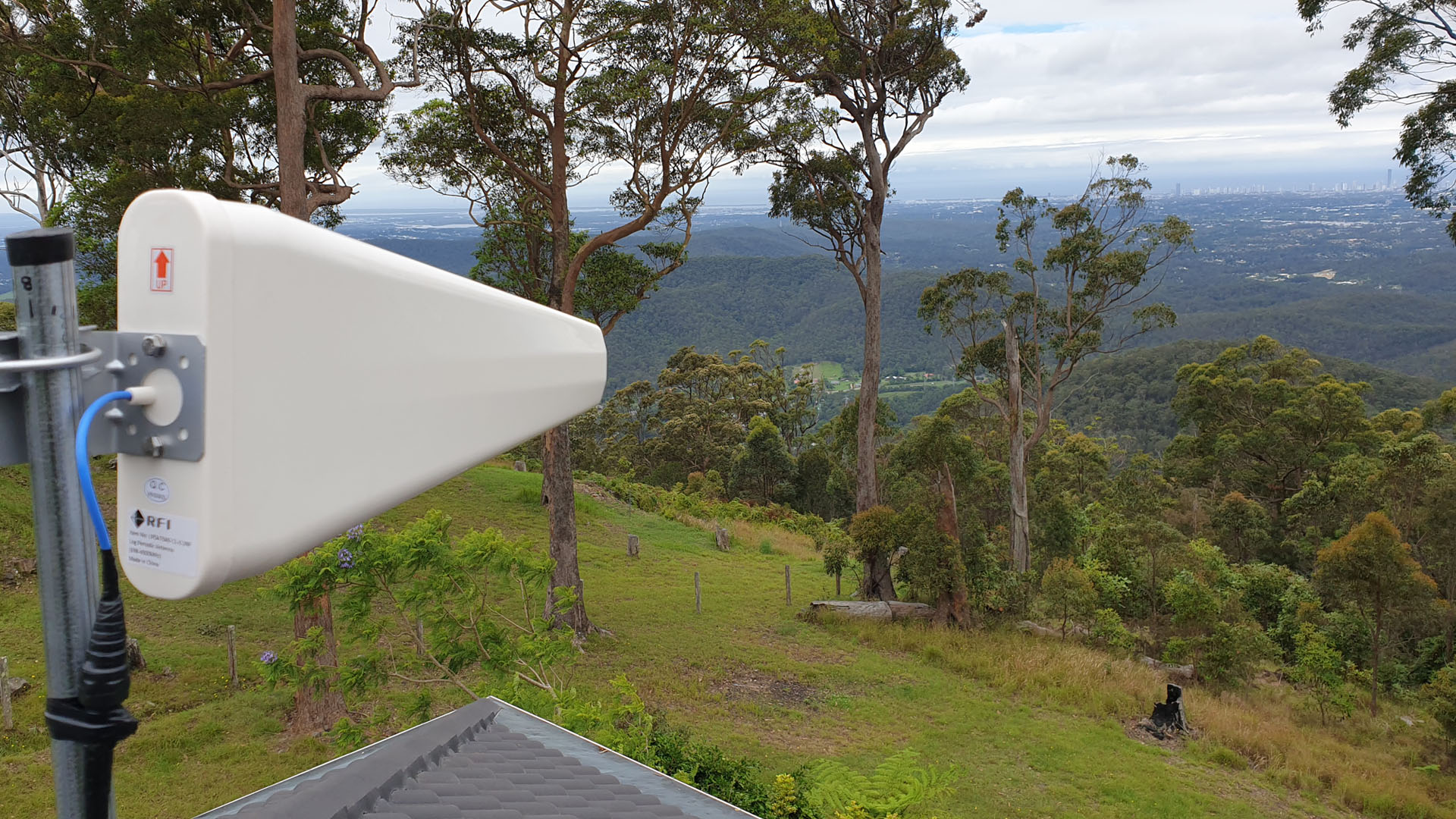 There's an art to tuning in an antenna to get the best signal from the cell towers and it's not just a case of throw it up and she'll be right.
We briefly run through how to find the best location for a Donor antenna to transmit the booster signals to and from the mobile phone cell towers. This method of finding the location does not take into account certain aspects such as Signal Quality (RSRQ), Noise Interference (SiNR & RSSNR), Band Selection, Cell tower loading and a few other factors that a professional installer with knowledge, experience and a cellular network tester or the Cel-Fi WAVE app can provide, but if you don't have access to those tools or services then this method should be sufficient to get a fair indication.
In saying the above statement, we always recommend that a Mobile phone booster/repeater should be surveyed and installed by a professional who has knowledge and experience in setting up cellular networks.
What is a Donor Antena?
The Donor antenna is the antenna that transmits and receives the signal between the phone network providers cell tower such as Telstra, Optus or Vodafone and the phone booster/repeater.
Find the best phone signal location!
To find out how to get the best mobile phone signal location, you should only need your mobile phone for a quick signal test if your network provider and phone provider have this function enabled, otherwise you will need to use a Cel-Fi unit with the Nextivity WAVE app loaded onto your phone. Scroll down to see the links to download the Nextivity WAVE app.
Here at Tin Can Solutions, we run Android devices and for all you iPhone lovers out there, we understand that you think iPhones are the best, but Androids have a back button that we love. Don't worry though, we will explain how to show signal strength on iPhone and Android phones and devices.
Your phones should be able to display the Signal Strength which is a reading in dB with a negative number, so the higher the numeric value of the number, the worse the signal is so for example, -90dBm is a much better signal than -105dBm. A difference of 3dBm is double the signal strength so -90dBm is 2x the strength of -93dBm and 4x the strength of -96dBm and 10x the strength of -100dBm. You can see from this that it is crucial that you find the location with the best signal to mount your donor antenna properly. If the signal is poor you can use an LPDA or Yagi directional antenna and tune it in to make the most of what signal you have. By saying tune it in, we mean pointing the antenna in the general direction of the cell towers and then taking signal strength readings to find the exact direction and elevation to point the antenna. Remember that if there is absolutely no signal, you can't amplify nothing, but just because your phone isn't picking up any signal reading doesn't mean there is no signal. We can conduct tests on-site as a service for you to see what is possible. Feel free to contact us to book in a cellular signal strength survey in QLD.
A quick note is that Android measures the RSSI which is the Received Signal Strength Indicator whereas Iphone measures RSRP which is the Reference Signal Received Power. What this means in very simple laymens terms is that a reading higher than -105dBm such as -100dBm is usable and something that we can work with using a standard collinear or compact antenna, otherwise an LPDA antenna may be required.
ANDROID
Go to Settings and Search for "Signal Strength" which should bring up a result in "About Phone > Status > SIM Card Status". Click on it and you should see a negative number with dBm after it which is your RSSI. At the time of writing this article, if the RSSI is outside of -51dBm to -113dBm then Android does not give a reading and you will need to use the Cel-Fi with the WAVE app.
Iphone
Go to your phone app and in the keypad, type in *3001#12345#* and call. You should now see a Field Test or Dashboard page. If not then we don't think your phone supports this feature so Google is your friend and we would love any feedback.
If you have accessed a Field Test or Dashboard page then you should be able to get to your RSRP indicator. On the Dashboard page we found it under the 3 lines menu > RAT > Cell Info > RSRP and this shows a negative number in dBm such as -97dBm.
Conduct signal tests to find the best location for your phone antenna!
Now it's a simple task of walking around the areas where you would like to install an antenna and take readings. Make sure your phone has updated the reading before moving onto the next location. We recommend drawing a site plan and taking notes on the plans of the readings at each location. Sometimes the best reading will be against a solid wall as it shelters your phone from noise coming from other cell towers, and don't forget on the roof too as this can be the best location in many situations as it has the highest and clearest line of sight to the cell towers, unless you are getting noise from other sources which will affect the signal quality.
Document the readings!
If you buy a stationary Cel-Fi kit from us, we will supply you with a step by step guide to help walk you through finding the best signal location, data speed tests to confirm that your data speeds have increased and how to tune in your Directional Panel, LPDA or Yagi antenna. It also allows you to document the results properly and to reference back to them for pre and post test results to confirm that you actually have better signal after the CelFi booster has been installed.
If you have purchased elsewhere, we recommend that you record your readings somewhere so that you can relate back to them.
Determine the best location from signal strength results
Once you have all the readings then you will be able to determine the most suitable location for your donor antenna by the location with the reading which is closest to Zero. Remember that -90dBm is better than -105dBm. This location will most likely be the best position to mount your phone booster donor antenna. But remember if your signal quality is low, you will need to conduct further tests to ascertain what is the cause of the poor quality mobile phone signal.
Installation
Please note that depending on which repeater you use with your antenna, the repeater may only boost one or a couple of the bands available on the network. Your phone may be picking up signals from a band that the booster does not support or is not set to boost which may cause connection delays and band handover drop-outs that come across to the average person as poor phone service, and this is why we recommend installation by a professional installer.
We are not here to tell you how to get on a roof or ladder so if you are not trained and confident in doing so, then we recommend calling in a professional.
Tin Can Solutions are Authorised Distributors and Certified Enterprise Installers of Cel-Fi phone repeater boosters in Brisbane QLD and we can install your system for you which will guarantee a quality install that will give the best results possible for increasing your mobile phone service signals.
Feel free to contact us to find out more.
After Installation
Once you have installed your antennas and booster we recommend that you take some readings with the booster off, then turn it on and take those same readings again which will show you if the booster is actually working correctly.
We also recommend that you perform a data speedtest with the booster off and then on. Firstly, turn off your phones Wi-Fi, then go to "Google Chrome Browser" and type in "speedtest" and hit enter. You will see a blue button with RUN SPEED TEST . Click on this button and Google will perform a speedtest. Remember to turn your Wi-Fi back on after you finish.